Home from Melbourne
I'm pleased: five days Melbourne to Adelaide— via Mildura!
Day One - 163km - Route

Day One was "get out of Melbourne day." I decided that I would go back to Werribee on the Federation Trail. This meant that from Koonung Heights I needed to check a map only once on the way back into the city, as the Koonung Trail, Yarra Trail and Capital City Trail had all stuck in memory. I was quite pleased with myself about this.
I met a couple of cyclists on the high foot bridge that crosses the Yarra. It is narrow. We had to lift bikes to get handle bars and panniers past each other.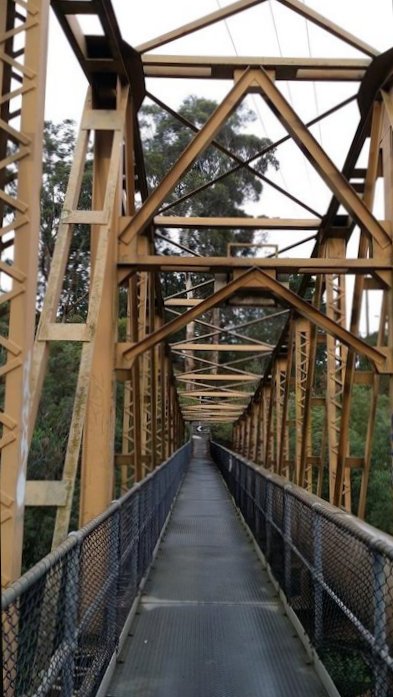 The Melbourne trails are a scenic delight.
The Federation Trail to Werribee is not the most salubrious scenery— to put it mildly— but is a no-brainer for navigation out through Hoppers Crossing to Werribee.
This hill is crushed glass. I took this photo coming into Melbourne. On the way back it was clear the pile is at least three times higher further back from the path. For reference, the fence is ten feet high.
My day's destination was Creswick, which meant only a 25km penalty for the day, over a direct ride out along the Ballarat Road, and very little traffic after Werribee. Bikes can travel the M8 to Ballarat, but the noise would be awful, and the risk factor is higher, despite the shoulders… or, indeed, because of them.
The country past Werribee has been run pretty hard by the landowners. I'd expect Dad or Uncle Brian to have words with me if I reduced paddocks to this mass of thistle.
Part of the reason for the lighter traffic is that this route goes over a high scarp near Rowsley, and the signs are designed to intimidate tourists.
I gave up on the climb after hitting 18% for a while. I could not see the rest of the climb and decided that it was better to get off on a bit of a flat— only 10% or something!—rather than falling off later. So I walked the last 500 metres instead of falling off! I was a bit annoyed. If I'd known the road, I'd have known it was only 13-15% from there and I could have made it. The sign above was the third such sign!
So there I am slipping on the bitumen in my cleats with the left pannier banging against my calves, a bit disgusted at having to get off, and U2 starts playing "Grace." Hills like that are one good reason to have mountain bike shoes with (mostly) recessed cleats. Road shoes would have been hard work!
Google Bike gave me sterling service through Melbourne, including this gem.
The above photo is from Google StreetView.
This little alley cuts through to an old stock route and then the Maribyrnong River trail and across Yarraville to the Federation Trail. But…
Google also found a guaranteed no traffic route from near Bungaree to Pootilla. It just happened to be a path through a Domestic Water Supply Reserve. Can't imagine the fine. Caveat emptor!
Sunday night was spent with my good friends the Carters, in their Creswick house.
Day Two – 133km Route

Day Two was an easy ride to St. Arnaud. That said, it was a very cold start at 7 degrees centigrade, and took a fair while to warm up. I ignored Google's advice and went "cross country" through Ascot to Lexton. Lexton has the most persistent aggressive magpie I have ever met; it followed me over a kilometre with a swoop every 7 or 8 seconds!
This route included some metal road, great views of the Waubra wind farm, and had no traffic.
For dry country people like me, this can appear a green paradise. But I get the feeling that the domestication is only "skin deep." The bones of this country always show through. This is a place of hard winters, I'd guess.
From Lexton I took the highway up through Avoca to St. Arnaud, and given how cold the day had been, treated myself to a motel room for the night. Next >>>>