Mildura
Balranald to Mildura is 160 kilometres.  In a cute piece of NSW parochialism Mildura disappears around the 130 km mark. Suddenly one is on the Euston – Burronga Road.  All reference to Mildura disappears on the national highway signs!
I left the Tooleybuc road for another day. It would have meant ploughing head on into the wind until I got to the Murray. Going to Mildura put the wind in my front left quarter. In the mallee the wind was quite mild because of the trees. Just out of Balranald a bloke has cleared a couple of paddocks that would have held our old farm with room to spare. The wind across there was brutal. Back in the mallee alley it was survivable. The rain held off, and after Euston the wind dropped a little. Not a very pleasant ride, but I'm here!  Tomorrow: Renmark.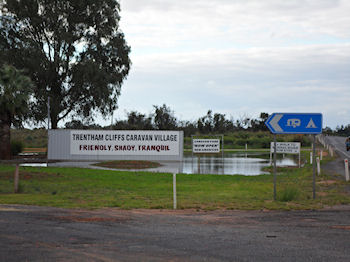 Our vans are right on the water!