Getting to Melbourne
October 2015
Adelaide to Melbourne and return. Total distance: approx 1985 km.
Day One: Adelaide - Tintinara 199km Route
A slow trip out to Dawsley through the Hills. I was feeling a bit underprepared, but helped by the tail wind. Dawsley to Jervois was fast; downhill or flat to Murray Bridge with the exception of the Monarto Hill. I met a Murray Bridge cyclist who paced me from Monarto to the Jervois turnoff which I appreciated.

Monarto Crops
I took the ferry over at Jervois, oiled a squeak in my chain and started a fast ride to Tintinara. Grand Final Day in Melbourne meant no traffic, and being able to sit most of the time in the truck rut, which is very smooth.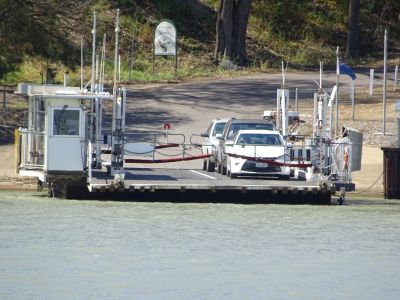 The Punt at Jervois
It works well to drop out to the verge when vehicles are about 200 metres back. Most of them cross the white line to give more room. I would not do the trip without a rear view mirror.
Coonalpyn Downs
Day Two: Tintinara - Frances 134 Kilometres Route
Still flat. Still tail wind.Lunch at Bordertown, and a cuppa with family there. I camped at the Frances Sports Ground. There is no other accommodation except the pub.

Dawn at Frances

Day Three: Frances - Hamilton 174 Kilometres Route
Day three is always long. I wondered if we should call us the Land of the Loud White Cockatoo after being screeched at for about half the trip! I took a buster off one of the narrow roads when making room for a semi... hit sand and ripped my nicks open. But no other damage.
Glenelg River to Coleraine is stunning country, and after 2 days of flat riding I was greeted with a ten per cent climb out of the Glenelg River!

Lake Bringalbert

You call that hay fever!? This is hay fever! That "dust" is pure pollen.
Heading for Nareen

Hard work country

Day Four: Hamilton - Port Campbell 173 Kilometres Route
I did the ride to the coast from Hamilton 40 years ago, and it is every bit as good as I remember. The wind changed to the west 10km north of the coast so that I had a howling westerly to blow me across to Warrnambool. The road steps south - east - south... and I was actually blown off the road on one of the southerly steps. Speeds going east were 30k plus, whereas south speeds were down to 15km on the flat.
Wind Farm
Day Five: Port Campbell - Apollo Bay 100 Kilometres

At the Apostles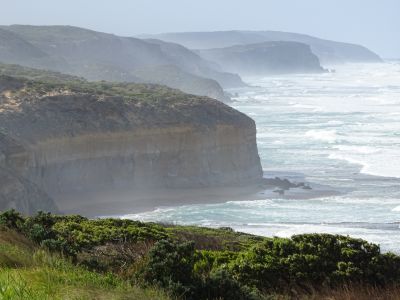 A day of highs and lows- literally! I took the traditional Apostles' photos and then continued on to Princetown. Here I left the bitumen and took the Old Ocean Road through to the Gellibrand River crossing. A beautiful ride.

Old Great Ocean Road
Old Great Ocean Road

Old Great Ocean Road
Gellibrand to Lavers Hill is a 15 kilometre climb with maybe two little dips. The ride back down was freezing, even with a wind vest.
Near Apollo Bay
Day Six: Apollo Bay - Geelong 111 Kilometres Route a b
Apollo Bay to Lorne must be the world's best bike ride. Mountains on one side, sea on the other.
Beach Gallery

Great Ocean Road

Great Ocean Road

Great Ocean Road

Great Ocean Road

Me

Day Seven: Geelong - Melbourne. 119 Kilometers Route
The challenge! I took what turned out to be a favourite cyclist's route from Geelong to Werribee, which consists of back roads up along YouYangs. Then took the Federation Trail into Melbourne, and slowly navigated my way through to David and Rosemary's at Koonung using mostly paths and trails. Google bike is excellent-- apart from that one set of stairs!
Beats the freeway - Eastern Freeway Bike Path

Beats the freeway - Eastern Freeway Bike Path
Geoffrey
On the Ted Wilson Trail around Geelong I met Geoffrey. Geoffrey has taken over 200 metres of trail and begun to garden it; roses, iris, figs, apricots, cherries. He comes down each day and waters it with bottles he carries in his wheel barrow. He told me the doctor told him he has dementia. I said we would remember him by his garden, even when he couldn't remember himself.
Now to ride home... Read on >>>>