Quorn and Return
This trip was done on the March long weekend in 2012.
Always worth the ride!
Day One: Elizabeth to Quorn: 313km [These three links will take you to Bryton GPS]
Day Two: Quorn to Pt. Pirie (The three Gorges): 154km
Day Three: Pt Pire to Adelaide: 232km
The old Terka church is where my Grandmother Olive Masterman, was married. She lived in a house next door and walked to her wedding. There used to be a pile of rubble left. Now there is nothing. The current owners have made the most wonderful cottage garden of fruit, vegetables and ornamentals.
I aimed at avoiding the major highways where possible, without too much extra mileage being involved. Key to this is avoiding Highway One, which is like riding on South Road, Adelaide! You can see I had to endure a couple of short sections.
Elizabeth to Quorn
I left at 3.00am and arrived at Quorn 9.48pm. From Virginia to Two Wells can be travelled on the old Highway One, and is mercifully quiet! Note that at Brinkworth I took a short cut via a metal road to Main North Road, to cut off a few kilometres. At a careful pace this saves time over the longer bitumen route on the Brinkworth Gladstone road. Traffic on Main North Road is usually very courteous; most cars will slow behind you and wait to overtake if there is oncoming traffic.
This was sunset on the Wilmington Quorn road... once I found the right one. I began to ride up the old Gunya Road, and very quickly backpedalled once I met the limestone. It made cobblestones look like nothing!
Moonrise
Three Gorges
Quorn to Stirling North is the ride through Pichi Richi Pass.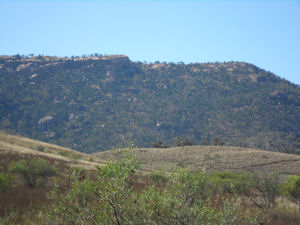 Entering Pichi Richi Pass
The Railway Bridge
Bridge in the bush
You then take the old Wilmington Road to approach Horrocks Pass. The old Wilmington Road is the roughest bitumen I have ever ridden; I think we could set up a competitor to the Roubaix - Paris cobblestones! I was restricted to 12km for a number of kilometers, although the surface is mercifully free of gravel.
Beginning the road to Wilmington
Getting Closer

If you take the new road, there are some 20 km of Highway One to cover before you turn west to travel back up to the Flinders. As my mate Bruce says "my ride headed up to the Flinders Ranges stopped at Melrose and Wilmington before a nice little climb up to a place called Horrocks Pass. From there I had a fun descent that went for a good 10 Kms finally meeting the main highway. from there it was a 23 km grovel against the wind and with heavy traffic."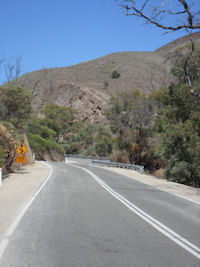 Horrocks Pass used to be a no-go zone for semis. Now it's been engineered to take B Doubles. There was a bushfire last summer; the place would have been a death trap, judging by the fire scars.
The climb up Horrocks sits between 3 and 7 percent for some 6 km. I went the opposite direction to Bruce... and can tell you that Pirie to Quorn would be a hard ride; two Gorges up, and only one down!
This plane has been sitting on the Murraytown road since I was a little kid. I reckon it's been flying at least 45 years!
Late afternoon from Wilmington to Murray Town was quiet and lonely. I rode down through Port Germein Gorge in the dusk; magic! How I love Australia!
'
The road into the Gorge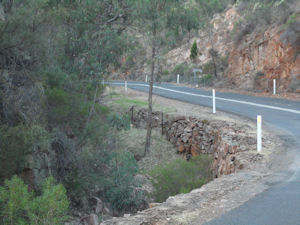 Down in the Gorge
This meant I needed to do the last leg into Pirie in the dark, never a nice thing on Highway One. I have a Niteflux daylight taillight and three others, so visibility is not too much of a problem, I think. But road trains three feet away in the dark never inspire confidence! At least there is a good verge to keep you off the main carriage way. Fortunately this was only a short stint of the whole trip.
Pirie - Elizabeth
Windfarm
A very long day. Although the road via Port Broughton is the quickest way to Adelaide for Pirie folk, the top of Yorke Peninsula is an old dune field, and with a three quarter front wind is tiring work. Traffic on this road is really good.
Lunch at Port Broughton
Why settle for a plain old farm sign when you could say, Turn left at the toilets? Somewhere near Bute:
Before the drop down to Lochiel
I took a side road to Lochiel to avoid the Copper Coast Highway and Highway One around Port Wakefield. There is good verge up out of Lochiel to the Nantawarra turn off and then quiet and smooth bitumen across to Balaklava. I finished the trip back on the route I began.
Goyder Church - on the Nantawarra to Whitwarta Road... all on its ownsome in a paddock. A little bit of England dropped into South Australia, and quite beautiful in the dusk.
Out from Mallala, with the nearest lights at least a kilometer away, I could smell the most delicous curry. It was tempting to set off across the paddocks to track it down!
Balaklava Sunset