Clare Loop
I was planning a long nonstop with lots of gravel last weekend, but a close Covid contact put a stop to all that! So, after a clear PCR test, on a supposedly rain free Monday, I took a consolation loop up through Clare, and return to Adelaide.
A fast trip north from Adelaide has only one sensible route, from my perspective anyway. Highway One is constant noise and one is always at risk from the high traffic volume. Main North Road from Gawler to Tarlee is also busy, and in my experience, often just feral. Something clicks in Tarlee, apparently, for the traffic then slips into the typical courtesy of country drivers. There is a third route which our family used to call "the middle road," or just, "Brinkworth." From the family farm between Gladstone and Crystal Brook this became the favourite trip to Town, aka Adelaide. 
From where I now live in Adelaide it's a matter of taking the Levels Bike Route to Mawson Lakes, crossing out to the Tapa Martinthi Yala and jumping off that at the Waterloo Corner overpass. This little detour allows a neat exit into Virginia, across both the Northern Expressway and Highway One. It delivers us onto the old Highway One road up through Virginia to Two Wells.
Old Highway One is a busy local road, but well mannered. It's also flat as a pancake, so it allows an easy ride north. From Two Wells the flat continues up to Mallala and then to Balaklava, with a few undulations beginning further north.
Flat road country about 5km north of Mallala.
Virginia to Balaklava is about 60km. Traffic was a little heavier than I expected, possibly because there are apparently extensive roadworks on the other two routes. I did not have one close pass in all that time, which is a credit to country drivers, and a welcome change. This included a fair number of B-Doubles.
I've just made an addition to my lighting system, and how much this worked as a "manners reminder," I can't say. My 24 hour tail light is not really bright enough as a daylight flash, and it won't last the distance if I set it to a higher output. So I've added a Knog Lil Cobber Front Bike Light to my trunk bag, set to a 1 second flash. This is white light, of course, and will run 60 hours. I know from driver comments that the flashing white of a headlamp is visible for ages, so I figure this is a good move on the back. It's also not strictly legal, even though I've got the permanent solid red light of the dynamo and the flash of my NiteFlux on the back as well. But I'm willing to argue the point with a cop that it's still a smart move.
I took a break at Balaklava and hit up a little deli for a sugar treat. The young bloke behind the counter quizzed me about my mask, which I always put on for shops, and then proceeded to tell me about all the PPE gear he had made up at home for the next big pandemic.  It felt like being cornered by a JW or something, except I seem to have lost the ability to be rude and tell people to bugger off. It was an odd experience, trying to keep a straight face as he plied me with detail, feeling trapped, wanting to tell him he was nowhere as near well informed as he thought he was, until I could decently mention I needed to keep moving.  I guess he was a lot nicer than a loud aggressive male in Eudunda  a few months ago, who was wearing a "White Lives Matter" t-shirt.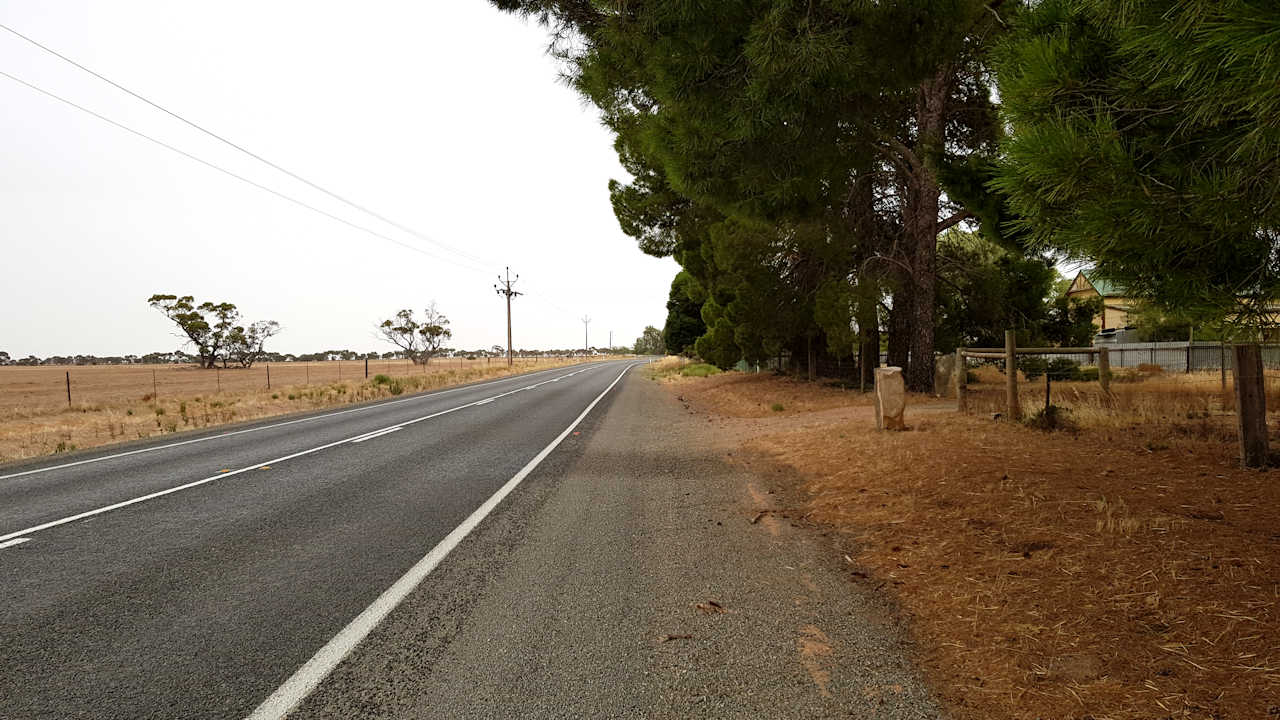 It's still flat at Blyth, but hills are not far away.
From Balaklava the "middle road" goes on up to Blyth and then to Brinkworth. For years, I've been topping up my bidons at a garage in Blyth, but they've upgraded the building, and there's no longer an outside tap. (My memory is that water can be found out of hours at the RV stop in Brinkworth.)
I turned off at Blyth and headed due east to Clare. This meant turning full into the wind which had been chopping in from the side all morning.  It's about 5km from Blyth to the ranges, flat or gently sloping at one or two percent, but I was down in my bottom gear on flat ground several times as the wind howled down off the range.  The climb up through Armagh, which is quite steep in places, was a paradoxically much easier because the gullies and bends gave me some protection from the wind. 
Heading into Armagh
It began to rain at Balaklava, just enough spit to be a nuisiance, but not enough to need a coat. The rain intensified in Clare, and by the time I'd filled up bidons and added electrolyte, eaten a meal, and talked to Wendy on the phone, I needed a coat for rain and for cold. I took the rail trails down to Riverton with the intention of heading east to the Barossa and home on the Barossa and other bike paths.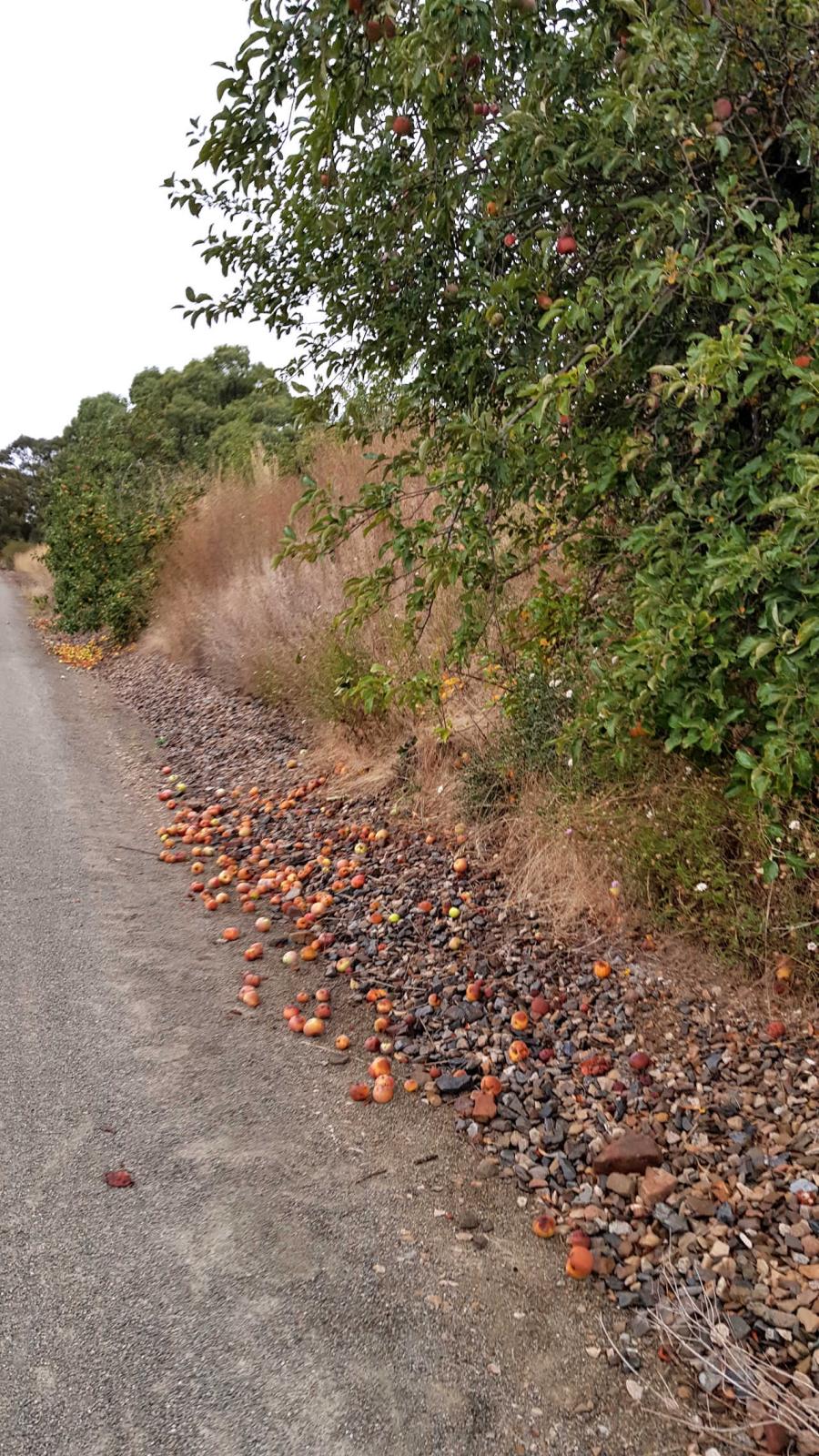 That time of year on the Riesling Trail when you can feed on the way!
Rattler Trail near Undalya, just on sunset
On long rides from the north, I use the Riesling and Rattler trails to stay out of the traffic, and then  avoid the Barrier Highway and Main North Road between Riverton and Tarlee by taking the Old Main Road South, which is strictly dry weather only. That seemed an unwise choice this trip, especially as I was beginning to look like "real rain" when I stopped to fill the bidons at Riverton. I took the bitumen to Tarlee, delighted to find at around 8pm that only 3 vehicles passed me in that 11km stretch.
Tarlee leaves three routes home. The east route (for night time at the end of a really long ride because there is typically no traffic) goes over to Kapunda and then due south to the Barossa Bike Path at Lyndoch. The west route goes across to Hamley Bridge and south (with a few unsealed sections) coming out onto Stuart OGrady at Curtis Road. Again, a good night ride if you have several hundred km under the belt, but not so good if it's been raining. Both these routes will deliver a bike into Port Adelaide all off road, and then into the city on the Greenway. I'd planned on the Barossa for the extra miles, but the BOM indicated that was now about to have serious rain so, given the light traffic I went straight down the middle route to Gawler.  
(March 2023)