Elizabeth - Bordertown 2010
This trip marked my return to long distance touring.  My hope was to ride to Horsham in Victoria to a cousin's house, but this was always dependent on the weather.  The challenge of this trip was not only distance, it was to manage riding in 40 degree Celsius  heat in the mid-summer. I had to abandon the final leg to Horsham to maintain safety in the time I had available, and added a leg on the way home, via Victor Harbour.
In the weird beauty of Australia weather I rode in 45 degree heat, had to worry about a bushfire, and rode one day in rain! Touring in Australia is a combination of judgement about distance, temperature and water.  And in summer, fire is a danger.  You need to have water at the rate of a litre per hour on a warm 30 degree day, plus some in reserve.  This means for long trips panniers become essential. On this trip I carried to frame mounted bidons and had 4 1.5 litre bottles in my panniers.  It is smart to drink and refill at each opportunity.  Towns may be 30 or 40 kilometres apart. In one trip I would like to do there is a 260km stretch between towns (Cobar to Wilcannia.)

Stats:
Sunday January 10
Elizabeth 6.00am - Murray Bridge 12.55pm Temp 45
Murray Bridge 5ish - Tailem Bend 6.30pm
Total Time 7:03 137km Ave Road Speed 19.6km/hr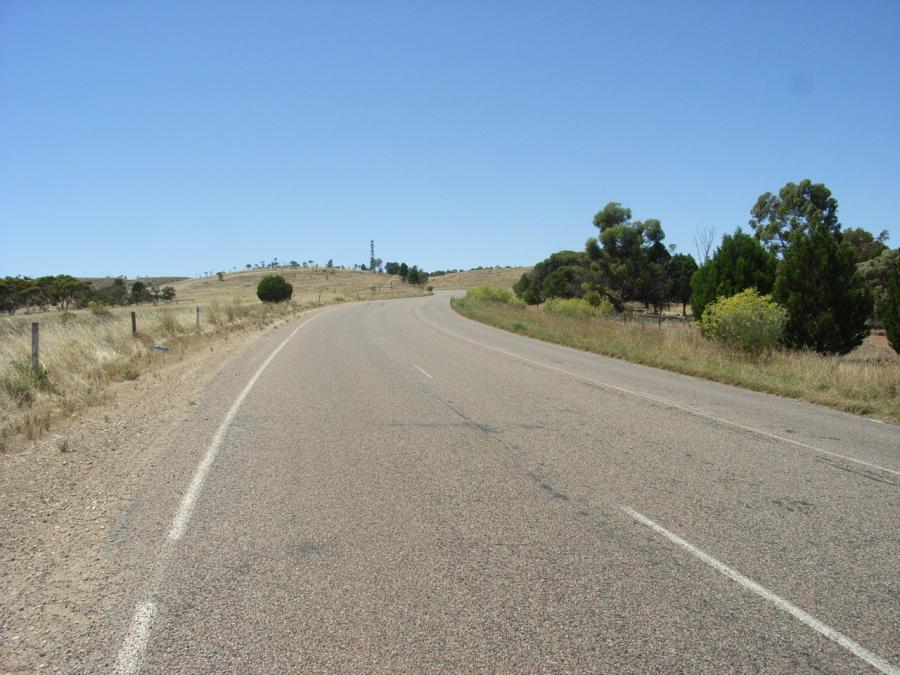 The photo is between Nairne and Murray Bridge
Monday January 11
Tailem Bend 5.37am - Keith 12.40pm 
Total  Time 7 hours 128Km Ave Road Speed 24.9km/hr
Day had a hot northerly wind which combined with the flat road gave me much better time. Temperatures again peaking around 45 degrees.
For the last leg from Tintinara to Keith, around 38 km, I drank 5 Litres of water!


At Yumali it was just starting to get hot.
Tuesday January 12
Keith - Bordertown - Keith
Raining all day!  Lunch at Bordertown with family
Total Time 4 hours. 92km Ave Road Speed 22km/hr.

The Duke's Highway has a verge all the way to Bordertown. It's the only reason it's safe to ride. It is the main highway from Adelaide to Melbourne and very busy.  Most trucks are well behaved.  Some cars pass at 120kph and a foot away. The mirror is essential.
Wednesday January 13
Keith 6.37am - Meninge 2.14pm
Total Time 6.15 hours, 132km Ave Road Speed 21.1km/hr
Max Temp Meninge 22 degrees

Thursday January 14
Meninge 7.00am - Victor Harbor 3.45pm
Total approx 142km
Friday January 15
Victor Harbor 8.07am - Elizabeth 3:57pm
Approx 113km Ave Speed 18.7km/hr
Total Journey 749km