Lower Hermitage Road
I love the ride home through Lower Hermitage. It highlights just how fortunate we are in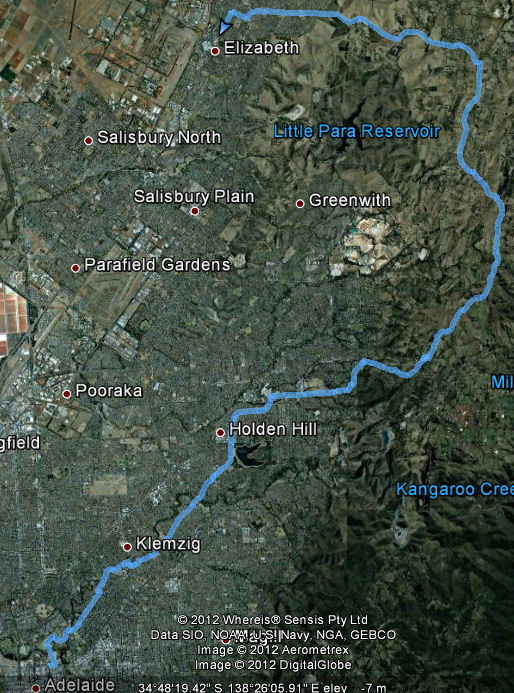 Adelaide. I can ride almost the entire trip from the city to Tea Tree Gully on riverside bike paths and back streets. Leaving at four, I arrive at TTG at 5pm.
There is a steep climb up to Lower Hermitage Road from Tea Tree Gully where I must use the main North East Road, but even at rush hour the traffic here is usually extremely courteous.
After that... silence. In the dusk there is a long plunge down into the valley where I could be fifty miles from anywhere! No traffic last night, just the noise of little creeks. Nine degrees as darkness fell.
The climb out is a challenge. The 8 to 10 degree slopes pale beside a short 20 degree slope
where I almost lost the bike when the front wheel lifted up. It's followed by a kilometre of Hannaford Hump Road which is gravel, and equally steep in places.
Back on the bitumen to One Tree Hill there is light traffic taking the short cut home to Gawler. Again, it is courteous. From One Tree Hill it is a fast ride along Blacktop Road to the edge of the hills and a quick sprint back home.
It's 46 kilometres and even an old bloke like me can average a little over 20kph. It makes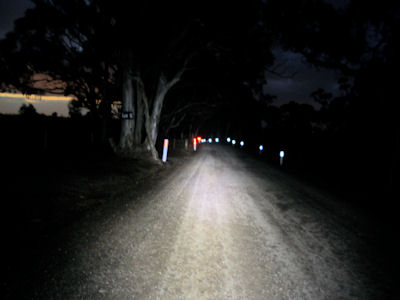 coming home a pleasure.
You can see this route in more detail on Google Earth.